ARGENTINA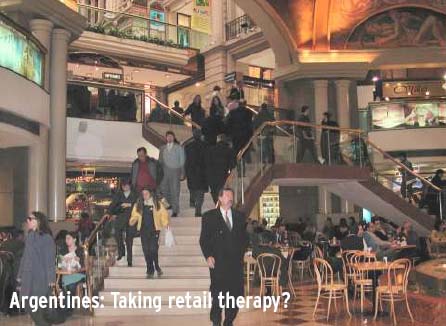 Argentine consumers are celebrating their countrys recent economic recovery by going out and spending some hard-earned cashor at least plastic. Visa, MasterCard and local credit card issuers, who saw credit and debit card sales take a 40% dive in 2002 when the country was immersed in the depths of a financial crisis, now predict sales will rise by 30% this year. Sales began regaining ground last year, with a 25% increase.

Card issuers are hoping this year will mark the beginning of a long-term turnaround, expecting the number of accounts closed for non-payment to at least balance out with the number of new accounts opened. Banks have increased their card issuance so far this year, enticing shoppers with zero percent interest rates during the first six months of 2004, along with sales tax refunds on purchases.

Last years 8.4% economic growth and predictions of a further 4% to 8% GDP expansion this year are certainly helping. With the economy growing, Argentines are confident that the horrors of 2002when the government defaulted on $88 billion of debt, the economy plunged 10.9%, the currency was devalued, and nearly 50% of the population dipped below the poverty lineare now over. Increased consumer credit and forecasts of 4% job growth (some 350,000 new jobs are expected to be created this year) are also supporting improved consumer sentiment.

Investors are taking notice and increasing their own spending. Ford Motor announced a $25 million plan to boost local production this year. Coca-Cola and Wal-Mart are also expanding. US franchisers are finding it hard to resist the temptation, too. During the recent crisis Pizza Hut, Wendys, Dunkin Donuts and Dominos fled the country. Now, though, several companiesincluding Papa Johns and Churchs Chickenare sending executives to Buenos Aires to seek local master franchisees.

Argentina is a country that has always lived through these great boom and bust cycles, says one local analyst. The problem is that when the economy starts to boom, it seems everyone starts to suffer from amnesia about the bust. Its the same the whole world over.

Santiago Fittipaldi