Japan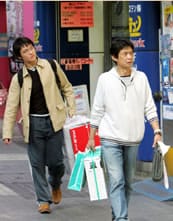 Japanese consumers, known for their tight-fisted spending habits, are finally beginning to loosen up. This change in behavior could be a blessing, not only for the deflation-ravaged Japanese economy, but for Japans neighbors and trading partners as well. Japans economy, the second largest in the world, grew at an annual 5.5% rate in the fourth quarter of 2005, thanks largely to the revival in consumer demand. That was five times higher than the 1.1% annualized rate of growth in the US economy in the same period and three times higher than GDP growth in the eurozone in the fourth quarter.
Japans GDP deflator was softer than expected in the final three month of last year, however, declining at a 1.6% year-over-year rate, and most likely delaying the end of the Bank of Japans zero interest rate policy. No wonder the yen didnt know which way to turn, says Charles Dumas, chief economist at London-based Lombard Street Research. The economy is booming and deflation intensifies!
The quarterly growth rate of Japans GDP has risen 4.5% over four quarters, making up for the 2004 slowdown, Dumas says. This pickup in growth was not thwarted by the Chinese domestic demand and import slowdown in early 2005, which for a while held back Japans net exports. Later in 2005, the US boom took over as the dominant factor for net exports, but the chief force for Japans GDP growth has been domestic demand, according to Dumas. Japanese consumer confidence is at a 15-year high.
The current acceleration in the US economy could mean that Japans GDP will grow even faster in the first and second quarters of 2006, Dumas says. Now, if only Americans can learn to save more, while the Japanese spend more, global imbalances could begin to correct themselves.

GP