Europe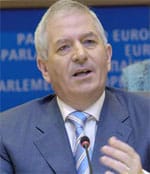 McCreevy: Securitization makes risk get lost, not disappear
Six months into the credit crunch, and with banks in other parts of the world such as India still announcing losses from the sub-prime crisis, the European Commission has admitted there is still no clear picture of how big the actual losses are. In a speech to the Chartered Insurance Institute in the United Kingdom recently, EU commissioner for internal market and services Charlie McCreevy said the difference in "guesstimates" was "alarming." "It undermines trust and confidence and has caused serious disruption in certain markets—not least in the inter-bank markets," he said. "Without a clearer picture …restoring investor and business confidence will remain a significant challenge."
The EC has been working with industry groups to increase the amount of data available on the securitization market, which has been blamed for transmitting subprime losses from the United States to Europe. "Securitization hasn't made risk go away; it has just made risk get lost," McCreevy said.
The EC might find some comfort in recent comments from Standard & Poor's, which believes the global financial sector has disclosed the majority of valuation write-downs related to the subprime crisis. S&P; says valuation write-downs of subprime asset-backed securities"primarily collateralized debt obligations (CDOs) and subprime residential mortgage-backed securities-could reach $285 billion for the global financial sector. The ratings agency had previously estimated total write-downs at $265 billion. However, it believes the end of write-downs is in sight for large financial institutions.
The commission itself has also had to engage in a dose of navel gazing in light of recent events, particularly pertaining to the supervision of banks that operated in different member states. "Would Europe be well positioned to deal with the default of a bank which had operations and depositors in several member states? And if not, how do we position ourselves in terms of supervision to deal with this?" asked McCreevy.
Anita Hawser