Taiwan
By Thomas Clouse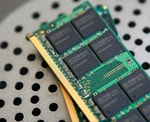 Bellwether: DRAM sales portend export upswing
Taiwan's government dropped plans to restructure its dynamic random access memory (DRAM) industry last month after export growth and rising prices helped several of the island's DRAM producers to post their first quarterly profits in years. The restructuring plan originated last year after severe drops in global demand hit many of the industry's top producers. The plan called for several of Taiwan's electronics companies to consolidate and domestically develop new technologies. Political resistance, however, stalled the government's plan, while personal computer sales pushed up demand for DRAM products. Taiwan's economy minister said on March 3 that the government no longer planned to invest in the project.
The pick-up in DRAM sales is part of a larger rebound in Taiwan's total exports. Exports grew by 32.6% year on year in February after jumping more than 75% in January. Mainland China, already Taiwan's largest export market, provided the bulk of the growth, with Taiwan's exports to the mainland up by 32% and 158% in February and January respectively. The surge in exports, which began last year, boosted Taiwan's GDP by 9.2% in the final quarter of 2009. The government's statistical agency expects the momentum to continue and revised its 2010 growth forecast upward to 4.72% in February.
Taiwan's economic ties with China could strengthen further this year after the island's government approved regulations to allow bilateral investment in banking, securities and insurance firms. The regulations are likely to follow earlier memoranda of understanding (MoU), which place limits on sizes of individual company and total cross-straits investments. In an email to Global Finance, Taiwan's central bank says, "The steady progress of the relations between Taiwan and China helps to facilitate considerable growth in trade and economy for both sides, conducive to a steady recovery in Taiwan."
The opening of the sensitive financial sector is part of the ongoing negotiation over the Economic Cooperation Framework Agreement (ECFA). Taiwan's president, Ma Ying-jeou, says that the ECFA is necessary for Taiwan to remain competitive against the backdrop of China's free trade agreements with other Asian nations. Critics, however, claim that the agreement cedes too much political power to China.