Italy/United States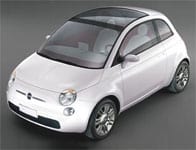 Lifeline: Fiats new Cinquecento

Turin, Italy-based Fiat Auto selected Ford Motor of the US as its partner to make small cars in Europe, seven months after breaking off its broader alliance with Detroit-based General Motors. The decision came as something of a surprise, since Chrysler Group, the US unit of Germanys DaimlerChrysler, was thought to have the inside track.
Analysts say the limited Fiat-Ford partnership to make utilitarian cars is a necessary step to cut costs at both of the struggling automakers. Ford of Europe is seeking a successor to its smallest model, known as the Ka, while Fiat wants to bring back its Cinquecento model, which it produced for two decades until 1977. The new Cinquecento will most likely be built at Fiats Polish site, which could create difficulty with Fords unions in Spain and Germany.
Fiat says it plans to work with Ford to develop a new small-car range, using the Fiat Panda as a platform. By working together on this project, both companies would envisage reduced development and material costs, while providing highly competitive products to the marketplace, a joint statement said.
Fiat already has a joint venture with PSA Peugeot Citroen of France to make vans. The two companies also are working with Tofas to make automobiles in Turkey. Meanwhile, Fiat last month launched a new, larger version of its best-selling compact Punto, which it is counting on to revitalize sales. The company cut its operating loss by two-thirds to $106 million in the second quarter of this year.
GM agreed in February to pay Fiat $2 billion, mainly in exchange for canceling a clause in their partnership agreement that could have forced the US automaker to buy the remaining 90% of Fiat it did not already own.

Gordon Platt