MILESTONES: US-COLOMBIA
By Forrest Jones
The free-trade agreement between Colombia and the United States spent years stalled in the US Congress, but it just celebrated its one-year anniversary in May, and both sides are hailing the deal as a success.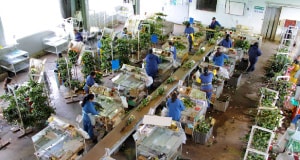 A rose factory in Colombia: The FTA has boosted exports to the US
In the United States, imports from Colombia hit $24.6 billion in 2012 (up 7% year-on-year), while exports to the South American nation came to $16.4 billion in 2012 (an increase of 14% year-on-year), according to the US government.
From January to April this year, imports from Colombia rose 13.7%, compared with the same period a year earlier, while exports to Colombia were up 19.6%.
Many Colombian exports consist of commodities, the prices of which can rise and fall despite the elimination of tariffs.
Since the FTA took effect, 700 Colombian companies have become exporters to the US, according to Proexport Colombia.
Other agreements in play between the two countries, including defense cooperation and an open skies agreement, are bearing fruit as well.
While major air carriers such as American Airlines have flown into Colombia for years, others, like JetBlue, are expanding their presence. JetBlue now services routes from New York to Cartagena, on Colombia's Caribbean coast, as well as routes to Bogotá and Medellin.
Other companies set up shop even before the deal was signed—Miami-based private equity firm Brilla closed its Colombian Beachfront Hospitality Private Equity Fund on February 1, 2012. The $30 million fund will invest in luxury hospitality deals on Colombia's Caribbean coast.
Years of internal civil war are ending, and many Colombians who left are returning on flights side by side with investors.
Economically, Colombia's future looks bright. Colombian companies and banks are investing abroad, and the country's central bank has even taken steps to prevent the currency from becoming too strong.
"The feedback from companies has been very positive," says Juan Carlos González, vice president for foreign investment at Proexport Colombia."That diaspora is coming back."