EUROPE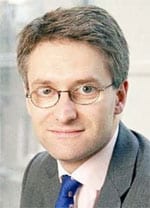 PwC's Nick Page.
The cross-border M&A; activity that has characterized financial services for the past few years has virtually ground to a halt as increasing government involvement radically reshapes the market. Nick Page, partner, PricewaterhouseCoopers, says M&A; deal dynamics are now dominated by "haste, opportunism and government involvement." And according to Page, government involvement has meant that deals are no longer dominated by the desire for increased scale, faster growth, reaching new markets and creating national champions.
According to a recent PwC report, the total value of deals in European financial services M&A; declined from E208 billion in 2007 to E179 billion in 2008. Governments, which accounted for more than 50% of the top 20 deals, replaced private sector bidders. While in previous years cross-border activity dominated deals, last year cross-border M&A;—with a total value of E41 billion—declined by almost 70% on 2007 levels. Domestic deals accounted for E137 billion of total deal activity, an increase of 81% on 2007.
Government activity in the M&A; space is also expected to dampen overall activity in 2009, according to 61% of respondents surveyed by PwC, with more than 50% of respondents to the survey expecting market appetite for M&A; to remain the same or decrease over the coming year. Looking ahead, Page said that the threat of increased regulation and government intervention means that the financial crisis will remain a dominant theme in European financial sector M&A; for some months to come. Any deals that are done are likely to be more focused on "divestments and disposals." This means, says Page, we are likely to see banks looking to sell non-core businesses, assets or subsidiaries located in far-flung geographies.
The increasing hand of government influence is also likely to encourage boards to aim for stability and capital generation instead of top-line growth. "Having to justify sales or acquisitions to taxpayers and ministers will be a new challenge for many organizations," says Page, adding that CEOs may need to find more creative ways to fund their activities, such as through asset swaps.
Anita Hawser