Europe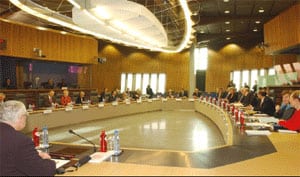 The European Commission has finally adopted a directive on minimum transparency requirements for listed companies. Under the directive, shareholders and the public will have access to the sort of information that investors in the US and the UK have taken for granted for many years.
All securities issuers must provide annual financial reports within four months after the end of the financial year. Shareholders will receive more complete half-yearly financial reports, and those issuers who do not publish quarterly reports will need to provide quarterly management statements. In addition, non-equity holders will get greater access to information. Bond issuers will also be required to publish half-yearly reports. The directive removes significant barriers to cross-border investment, and it reduces some investment risk for overseas investors. It will greatly improve the dissemination of information regarding public companies and should also provide better investor protectionenhancing confidence and leading to better functioning of European capital markets.
The directive completes a package of Financial Services Action Plan measures adopted over the past two years (IAS Regulation, Market Abuse Directive, Prospectus Directive) to establish a common financial disclosure regime across the EU for issuers of listed securities.
The directive must be implemented by member states within two years of its publication in the EUs Official Journal, which should take place in the next few weeks.


Brendan Sheehan