United States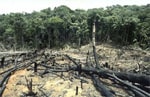 Risky business: Investors want transparency

Agroup of heavyweight US institutional investors have upped the ante over public companies failure to disclose the financial risks of global warming. More than 25 investors responsible for $1 trillion in assets called on the SEC to enforce reporting of financial risks pertaining to climate change in corporate financial reporting. In a letter sent to SEC chairman Christopher Cox on June 14, investment firms including leading private and state-run pension schemes stated that climate change presented material financial risks to many of their portfolio companies and that those risks should be disclosed in securities filings.They also called on Cox to provide guidance on the risks posed by climate change.
California state treasurer Phil Angelides, a trustee of two of the nations largest public pension funds, CalPERS and CalSTRS, which collectively manage $400 billion in assets, said that shareholders deserve to know if the companies they own are adopting environmental practices that would enable them to thrive in a world of increasing environmental concern and regulation.
Even as corporate disclosure of the business impact of climate change is increasing, it remains intermittent, inconsistent and incomplete, said Connecticut state treasurer Denise Nappier, adding that unresponsive regulations could lead to economic disaster. In the shadow of the Enron convictions, we are forcefully reminded that the more we know, and the sooner we know it, the better off we are, she said.
According to Ceres, a national coalition of investors and environmental groups, which coordinated the letter to the SEC, some US companies voluntarily disclose climate risk to their shareholders, but the vast majority refuse to do so, pointing out that SEC rules do not specifically say companies must disclose information pertaining to global warming and carbon dioxide emissions. The letter to chairman Cox is part of a 10-point Investor Network on Climate Risk action plan that was endorsed by 28 European and US investors at a summit on climate risk at the UN last year.

Anita Hawser