LATIN AMERICA/CHINA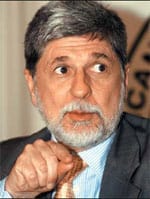 Amorim: Opportunity will prevail

Latin American governments used to turn to the United States, their traditional trade and investment partner, for help in kick-starting their economies.
However, the region has now set its sights on Beijing to seek support for its economic recovery. Brazilian President Luiz Inacio Lula da Silva and Argentine President Nestor Kirchner concluded state visits to capital-rich China in May and June, respectively. Both visits produced immediate results.
China reached an agreement with Brazil in July through which it will build a $1 billion port facility in Brazil in exchange for Brazilian raw materials such as iron ore, crude oil and bauxite. Brazilian electronics producer Gradiente, which imports Chinese components, opened a Chinese office to manage partnerships with firms in the semiconductor, software and IT sectors. "The difference is that there are opportunities for us to invest in China, so it's more of a two-way street than with the US," says one Brazilian banker.
Prior to the upswing in Sino-Brazilian relations, Brazilian companies had already set up plants in China, including compressor manufacturer Embraco and airplane manufacturer Embraer. Brazil's central bank has authorized Banco Ita to open a representative office in Shanghai to facilitate trade and investment flows.
Ten Argentine IT firms have set up shop outside Shanghai, while Buenos Aires hopes to boost food sales to China. Sino-Argentine trade rose 123% year on year, to nearly $3.2 billion last year. Brazil's $8 billion trade with China last year led to a $2.39 billion trade surplus in Brazil's favor.
Not all governments are on board the Beijing Express, though. Mexico still views China's low-wage environment as a major source of competition. Others support Taiwan and receive aid and investment from Taipei in exchange. "Of course, in some things they are competitors, and that is part of doing business," Brazilian foreign minister Celso Amorim says. "But if we can take advantage of those niche opportunities, which are much greater, I think opportunity will prevail."

Santiago Fittipaldi