Unitd States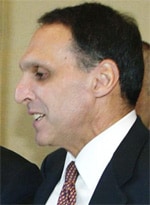 Richard Fuld, Lehmans CEO

Why are investment banks buying into hedge funds? To paraphrase bank robber Willie Sutton, Because thats where the money is. Lehman Brothers last month paid an undisclosed sum for a 20% stake in Ospraie, a hedge fund that manages about $2 billion and invests in basic industries and commodities.
Lehman is no stranger to the hedge fund business. It already held 20% of GLG Partners, a British hedge fund in which it was seeking to increase its stake. In January Lehman announced plans to launch a series of hedge fund indexes based on the HedgeFund.net database owned by Channel Capital. A leading bond-index provider, Lehman says the addition of hedge fund benchmarks will provide investors with new performance measures for this quickly growing market segment.
With its Ospraie holding, Lehman will have access to new investment opportunities started by the hedge fund. For its part, Ospraie will gain better access to Lehmans prime-brokerage business, which lends money to hedge funds to leverage their investments.
With pension funds and other institutional investors pouring money into hedge funds, the industry is being stretched and needs help in meeting the fast-growing demand. The investment bankers, meanwhile, need to find outlets for their talented traders, who might otherwise jump ship and start funds of their own.
In order to attract the business of hedge funds, which now manage $1 trillion in assets, Wall Street firms have invested heavily in the technology needed to interact efficiently with a wide range of markets. They need the volume to support their clearing and technology services that enable hedge funds to get into and out of positions quickly.
Lehman, which has long been known for its fixed-income capabilities, also will gain the opportunity to continue its expansion into equity trading.

Gordon Platt