Global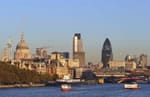 London: The "epicenter of world commerce"
London is perhaps best known for major tourist attractions such as Buckingham Palace, Tower Bridge and Madame Tussaud's, but now it has a new moniker as the epicenter of commerce globally, according to a panel of leading economists. In the first annual MasterCard Worldwide Centers of Commerce Index, which ranks the top 50 centers based on six measurement dimensions (legal and political framework, economic stability, ease of doing business, financial flow, knowledge creation and information flow, and business center), London finished first with an aggregate score of 77.79, followed by New York in second place with a score of 73.80 and Tokyo in third place on 68.09. Chicago was the fourth-ranked center of commerce globally, beating cities such as Hong Kong.
The index was developed by a panel of leading economic, urban-development and social science experts led by renowned economist Yuwa Hedrick-Wong and is designed to provide insights into the impact leading cities can have on the global economy. Each of the six measurement dimensions was made up of a number of indicators and sub-indicators, and different weightings were given to each of the six dimensions.
According to the index, London outperformed its closest rival New York, which was once the unchallenged financial capital of the world, in four of the six dimensions, including financial flow, with New York's score being affected by market regulations, a less stable US economy and the volatile US dollar. London's number-one ranking overall in terms of financial flow was boosted by the fact that it boasts the highest number of banking/financial services companies and insurance companies. According to 2006 figures, it also has the second-highest total value of bond trading ($3.3 trillion) after Copenhagen ($3.9 trillion) and is the main European marketplace for commodities, with the number of contracts in 2006 totaling 189 million, up 47% from 2005.
When it comes to ease of doing business, including the availability of quality, cost-competitive trade logistics, London ranked top in Europe and fifth overall, a position it shared with Berlin, Boston, Paris, Vancouver and Washington, DC. The easiest places in the world for doing business were Montreal, Toronto and Vancouver, based on their strong national healthcare system, excellent infrastructure and access to public transport.
Anita Hawser