Hong Kong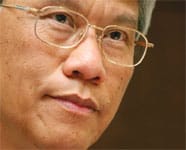 Loosening ties: Joseph Yam, head of the Hong Kong Monetary Authority
The Hong Kong Monetary Authority on May 18 loosened the Hong Kong dollars 22-year-old peg to the US dollar, allowing the currency to trade in a band of between 7.75 and 7.85 to the greenback. The move likely was vetted by the Chinese authorities, analysts say, and could be a trial run for a similar move by China to gradually free the yuan to trade in a narrow band.
All signs are pointing to an imminent revaluation of the Chinese currency, say market strategists at JPMorgan Securities in London. China has fixed the value of its currency at 8.27 to the US dollar since 1995, allowing it to move in a tiny band of 0.3% around this level. That band could be expanded to 1% or 1.5% soon and to as much as 10% by the middle of 2006, according to JPMorgan.
Although the US treasury last month stopped short of naming China a currency manipulator, it warned that it will do so in October unless China moves toward a floating exchange rate. Treasury secretary John Snow says he fully expects China to loosen its peg in the next few months. The only reason the treasury avoided calling China manipulative, he says, is that this could have incited US lawmakers to take action to restrict Chinese exports to the US. I shudder to think how the markets would respond if they saw the US turning its back on open markets, he said.
Analysts say Hong Kongs adoption of a currency band was an effort to increase local interest rates and to discourage speculators from using the Hong Kong dollar as a tool to speculate on a yuan revaluation.
Two of Hong Kongs biggest banks raised their borrowing rates the day after the peg was loosened.

Gordon Platt