Europe/United States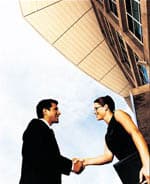 Merger and acquisitions bankers are already putting the Champagne on ice. With just a couple of months to go to the end of 2005, it looks set to be the best year for global activity since the technology, media and telecom boom of 2000. Both the number and value of deals are up on 2004, with 103,744 deals completed for a value of $15.90 trillion by mid-August of this year.
A large part of the performance of M&A; can be attributed to the fundamentals of the corporate sector, says Philip Isherwood, global strategy analyst at Dresdner Kleinwort Wasserstein in London. Companies have strong balance sheets and cashflows, and debt has remained very cheap from a historical perspective.
The rally in international stock markets over the summer has helped as well. Its a well-known fact that M&A; activity is closely correlated to the stock market; it has a correlation of 0.88 where 1 would be perfect correlation, says Isherwood. Strong stock prices not only give companies the currency they need for acquisitions, they also give CEOs confidence.
Isherwood says that many companies have realized that as they have lost pricing power as a result of increased competition, the only way to generate further profit is to grow by acquisitions and cut through synergies.
The current boom in M&A; is strikingly different from those of 1988 or 2000: Price/earnings multiples remain low compared to those years, suggesting the market is being relatively sensible. There are less trophy deals such as Time Warner-AOL in 2000, says Isherwood. And as we saw recently with Deutsche Brse and the London Stock Exchange, shareholders wont just go along with any deal. Similarly, most current M&A; is not being financed by stockusually a sign that things are getting out of control.
Not everyone shares the view that M&A; is as rosy as the figures suggest. Certainly the headline statistics are good, but they are swollen by a handful of mega-deals, says Henry Gibbon, global head of M&A; at data provider Thomson Financial. The mid-market, which is the real engine of M&A;, has both lower totals and lower numbers of deals than last year. Gibbon dismisses the link between equity market performance and M&A; for mid-market players.

Gordon Platt