Europe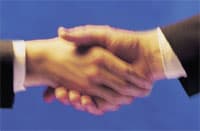 Equity capital markets activity in Europe is off to a record start this year, according to figures from information provider Dealogic. More was raised this January through IPOs, secondary offers and equity-linked deals than in any previous January.
A total dollar equivalent of $21 billion was raised in Europe, the Middle East and Africa this January compared to $11.92 billion last yearthe previous recordand $9.84 billion in 2001. Usually January is a relatively quiet month for new issuance, but this year the $21 billion raised compares favorably to the $21.34 billion raised in December and $21.43 billion raised in November.
Among the major deals that made the month a record was the four-hour sale by UBS of 1.1 billion of shares in UK bank Standard Chartered to help fund its $3.3 billion acquisition of Korea First Bank in the second week of January. In the same week, Goldman Sachs sold a 25% stake in German truck manufacturer MAN, raising e1.1 billion for Regina Verwaltungsgesellschaft, a company owned by German insurance giant Allianz, German bank Commerzbank and reinsurer Munich Re.
The knockout trades for the month came at its end with Allianzs audacious double assault on the equity-linked market. JPMorgan led a e1.2 billion exchangeable for the insurer, which innovatively exchanged into shares of BMW, Munich Re or Siemens. JPMorgan was also bookrunner on a e1.6 billion mandatory exchangeable into Allianz shares, which it had bought from Allianz subsidiary Dresdner Bank. Days later the Kuwait Petroleum Corp (KPC) sold a 3.4% stake in French drug company Sanofi-Aventis, raising e2.68 billion. The deal was the largest-ever secondary offering of stock in a European healthcare company and pushed KPCs previous e2.2 billion sale in September into second place.
The common factor with most of the big deals in January is that they were quick to market, says Marius Brinkhorst, director and head of equity syndicate at JPMorgan in London. Sellers of non-strategic stakes, in particular, have become more realistic in their expectations and more willing to take advantage of opportunities. Brinkhorst cautions that January issuance is unlikely to foretell 2005s volumes. It all depends on the markets continuing to be in reasonable shape, he says.

Laurence Neville