GERMANY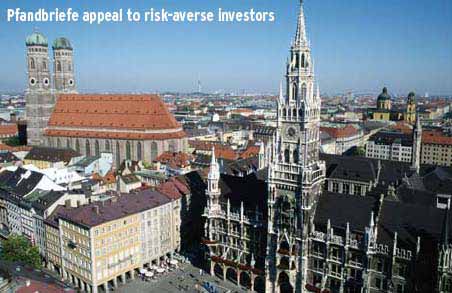 Moodys Investors Service has updated its rating methodology of the Pfandbrief in anticipation of amendments to the German Mortgage Bank Act, which are expected to go into effect in January 2004. The Pfandbrief market, composed of debt secured against mortgages and public-sector loans, is Europes largest bond market, with $1.25 trillion outstanding.

The rating agency says Pfandbriefe, or covered bonds, will be strengthened by the pending amendments, including the introduction of 2% over-collateralization, which would allow mortgage banks to maintain additional collateral in the cover pool in order to enhance their Pfandbrief ratings.

Moodys says the ratings of Pfandbriefe above the senior unsecured rating of a given mortgage bank will be widened to up to four notches for mortgage Pfandbriefe and five for public Pfandbriefe. The current limits are three and four notches, respectively.

This is a good day for the Pfandbrief, Louis Hagen, general manager at the Association of German Mortgage Banks, said in reaction to the change.

Moodys says the enhancement of the Pfandbrief legal framework will distance creditors further from the default risk of the issuing entity and reduce the expected severity of losses. Structured covered-bond programs have been successfully introduced in Austria, France, Spain, the Netherlands, Denmark, Finland and Hungary. Covered-bond laws are being introduced in a number of other European countries, such as Latvia and Ireland. In addition, Sweden, Belgium and Portugal are considering the establishment of such laws. The market is approaching the US agency securities market in volume. The covered bonds appeal to investors seeking safe investments with the opportunity for gains from a strong euro and other European currencies against the slumping US dollar.


Gordon Platt