Panama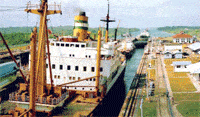 Canal dreams: Panama is

planning a $5 billion

widening project

Panama has prepaid more than $350 million of its Brady bonds, reducing its debt-service cost by $19 million a year for the next 10 years and eliminating the countrys last remaining series of these bonds named for former US treasury secretary Nicholas Brady. The bonds were part of a financial package that Panama offered its creditors in 1999 to end its default status. Not only will the prepayment save on interest costs and release collateral deposited with the US Federal Reserve, but it also will give Panama a chance to improve its financing conditions for the future. The country will need to tap the bond market for about $2.3 billion as part of a $5 billion plan to widen the Panama Canal.
The Panamanian congress formally approved the canal-expansion project in July, and it will now go to a binding referendum later this year. With wider locks and deeper channels, the canal will be able to handle ships carrying up to 10,000 containers. It is currently limited to ships with up to 4,000 containers.
We believe Panamas solid economic performance, together with a positive outcome of the canal expansion, will continue to enhance investment and, eventually, lead to positive rating actions, Alejandro Cuadrado, an economist and fixed-income strategist at Merrill Lynch, wrote in a recent report. HSBC, the UK-based bank, demonstrated its confidence in the countrys future in July, paying $1.77 billion in cash to buy Panamas largest bank, Grupo Banistmo, for a 25% premium to the market. HSBC chairman Stephen Green says the bank was betting on future growth tied to the Central American Free Trade Agreement with the United States. The Banistmo acquisition will give HSBC 220 branches in Colombia, Costa Rica, El Salvador, Honduras, Nicaragua and Panama.

Gordon Platt