UNITED STATES / EUROPE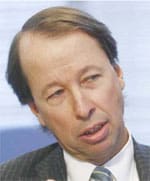 Tony James, president

of the Blackstone

Group

Plagued by competition and antitrust investigations on both sides of the Atlantic but still the darling of the bond markets, private equity firms are facing an uncertain future. In 2006 private equity funds raised more than $400 billion on a global basis, and the value of private equity buyouts in the United States and Europe soared to $440 billion. It has been a record few years in terms of profits for the biggest firms, and the market looks set to continue on its present course for some time to come.
In recent weeks several major transactions hit the market, including the record-breaking $39 billion takeover of US real estate giant Equity Office Properties by the Blackstone Group. With CVC, Kohlberg Kravis Roberts and Blackstone pondering a bid for UK supermarket chain J Sainsbury, the coming months could see more records broken.
That is, if US and European regulators dont throw any big wrenches in the works. With a number of investigations under way into various market practices of private equity firms, 2007 might turn out to be a record-breaking start to a steep downhill slide.
In the US the FTC is examining competition issues for PE firms. In late January the commission challenged a proposed $22 billion MBO of energy firm Kinder Morgandemanding that private equity buyers Carlyle and Riverstone agree to act as passive investors for the deal to go forward.
In addition, the Department of Justice is examining whether club dealsthose involving a consortium of buyersare breaking antitrust laws. Some of the biggest transactions to hit the market have involved consortia buyers. For example, in February this year the Four Seasons Hotel Group agreed to a $3.37 billion buyout by a consortium including Four Seasons CEO Isadore Sharp, Bill Gates and Saudi Prince Alwaleed bin Talal.
The UK Financial Services Authority last year identified seven risk areas for private equity, comprising excessive leverage, unclear ownership of economic risk, the possibility of market abuse, overall capital market efficiency, conflicts of interest, market transparency and market access constraints.


Denise Bedell