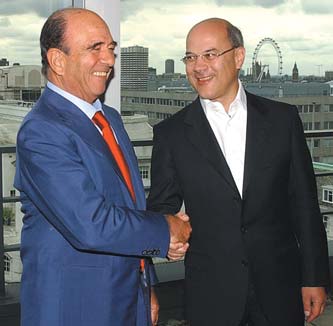 Shakedown: Santanders Botn seals the deal

with Abbeys CEO Luqman Arnold (right)

Twenty years ago Banco Santander was the smallest of Spains top seven banks. Today its near 40 billion market capitalization ranks Santander second among eurozone banks, just behind BNP Par ibas. Santanders 8.05 billion acquisition of Abbey, Britains secondlargest mortgage bank after Halifax, will pole-vault it into first place in Europe outside Britain.
Coming from obscurity, the Spanish giant has just picked off a leading British player in Europes biggest and most sophisticated banking market.The Abbey deal now catapults it into ninth place internationally, where it will rub shoulders with such global behemoths as Citigroup and HSBC. But the greatest irony of the Santander coup is arguably the fact that the transaction was done outside the eurozone, despite much-touted assurances that the launch of the euro would open the floodgates to European cross-border bank mergers.
Santander chairman Emilio Botn has never been deterred by currency issues. After all, Santander has built up a $16 billion Latin American franchise that today provides 35% to 40% of group earnings. Since taking over in 1986, following the reluctant retirement of his father, Emilio Sr., at age 83, Botn has been working flat out to expand the banks footprint through innovative products and the mega-merger in 1999 with Banco Central Hispano.Within two years, Botn had wrested control of the merged bank, with the Central Hispano executive team in full retreat.
So will Europes biggest-ever cross-border banking deal pave the way for future mergers? A banker at Goldman Sachs, which advised Santander on the Abbey deal, sees this as possibly the tip of the iceberg. People were waiting for someone to make a move, he says. This could be the trigger for European crossborder mergers.
Supporters of the domino-effect theory point the finger at a number of European players, such as Santander rival BBVA, Deutsche Bank and ABN AMRO, that will be closely monitoring Botns ability to extract value and cost-savings from crisisridden Abbey.

Jules Stewart