DOMINICAN REPUBLIC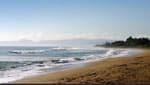 The Dominican

Republics beaches

are helping to drive

tourism growth

Strong economic growth and responsible fiscal policies have helped the Dominican Republic join the ranks of the rising stars in Latin America. So far this year two ratings agencies have upgraded their ratings for the country. Last year the Dominican Republic joined Venezuela in turning in GDP growth of 9.5%the highest in the region. This year, it has accelerated further, notching up 11.7% growth in just the first six months of 2006.
The strong growth has been driven by increased tourism, exports and foreign remittances. The country now ranks third in Latin America, after giants Mexico and Brazil, in tourism receipts, according to the Madrid, Spain-based World Tourism Organization. Inflation, which had been growing earlier this year, is now declining. In addition, the government has reduced its debt service outflows thanks to debt restructurings and a reversal of capital flight. Continued currency stability and the strong economic rebound, combined with a low government financing requirement and low net multilateral disbursements, will contribute to the improvement in debt ratios this year, Fitch says.
Meanwhile, the government is expected to implement a series of structural reforms after gaining a majority in the new national assembly, which assumed power in August. At the same time, the Caribbean country is expected to finally be able to implement a long-delayed free trade agreement with the United States (CAFTA), a move that had been held up in the previous national assembly. All this adds up to Fitch at the end of September raising its outlook on the Dominican Republics B rating to positive from stable. That follows a similar action from S&P; at the end of June. With both S&P; and Fitch expressing favorable opinions on DomRep through their positive rating actions, we believe that it is only a matter of time before Moodys, which rates DomRep one notch lower than both S&P; and Fitch, will follow suit, predicts Bear Stearns analyst Franco Uccelli.

Joachim Bamrud