China/Taiwan/Latin America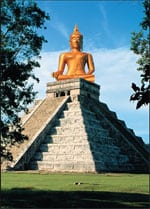 The Peoples Republic of China (PRC) and Taiwan are locked in head-to-head combat for Latin American allegiance. Beijing has promised billions of dollars in new investment and trade in the regions largest markets, while Taiwan is focusing on the smaller Central American and Caribbean nations. In both cases the strategy seems based on dollar diplomacy.
When Chinese president Hu Jintao embarked on a South American tour last November, he vowed to invest some $100 billion in the region over the next decade. In 2004, 49% of Beijings foreign investment was already channeled to Latin America, while Chilewith which China will sign a free-trade pact in Novemberis the PRCs second-largest trade partner after the US.
Even Mexico, which initially regarded the PRC as more of a competitor than a potential partner, appears to be warming up to Beijing. When Hu Jintao visited Mexico in September, he assured President Vicente Fox that his government would take steps to halt exports of contraband and pirated goods, easing some local concerns over competition.
Taiwan is stepping up its own efforts. It signed a cooperation agreement with the Dominican Republic in September during a visit by Taiwanese president Chen Shui-bian as part of a tour of Central America and the Caribbean. During the tour, Chen signed a free-trade accord with Guatemala and presided over the fifth Taiwan-Central America Summit in Nicaragua. He said Taiwan will invest $500 million in Central America over the next five years.
Chens visit was timely. In January Grenada switched its allegiance to support Beijing, despite Taipeis $40 million offer to rebuild a cricket stadium destroyed by Hurricane Ivan last year. In 2004 Dominica also established ties with the PRC.
China, of course, wants us out of this area, says a spokesperson for the Taiwanese embassy in the Dominican Republic. We only have diplomatic relations with 26 countries in the world, so we must strengthen those relationships.

Gordon Platt