SOUTH KOREA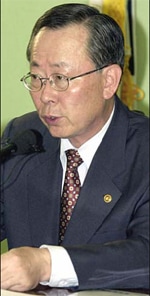 Lee Hun-Jae

The South Korean won suffered its biggest decline since November on news that the progovernment Uri Party gained control of the National Assembly in last months general election. Foreign exchange traders blamed the drop in the currency on concerns that the central bank will intervene aggressively to drive the won down in an effort to boost exports.
Finance minister Lee Hun-Jae says the country will pursue policies aimed at doubling economic growth to 6% this year. Analysts note that exports make up about 40% of the economy and have been the countrys main source of growth.
Bank of Korea governor Park Seung says rising exports will boost the nations current-account surplus to about $15 billion in 2004, well above initial estimates of $6 billion. South Koreas economy is the fourth largest in Asia.
The election results were seen as an endorsement of President Roh Moo-hyun, who was impeached in a chaotic session of parliament on March 12 on charges of

violating election laws.The nations Constitutional Court has until September to decide whether to dismiss Roh, although that now seems less likely.
The presidents liberal supporters took control of the parliament away from the conservatives for the first time since the legislature was established in 1948.This cleared the way for the government to push through measures to stimulate the economy.
Some analysts note that the central bank has intervened repeatedly in the past to keep the currency from rising, so no real change in policy is in the cards.Whats more, they say, the election may have helped to remove some of the countrys political uncertainty. If this results in more foreign investment, it could keep the won from tumbling.

Gordon Platt