Unitd States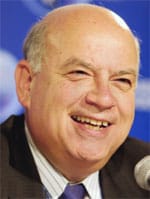 Jos Miguel Insulza

Washington was dealt a blow when neither of its two candidates to head the Organization of American States (OAS)considered a US-dominated regional organizationgarnered enough votes. Instead, Chilean interior minister Jos Miguel Insulza was elected secretary general with support from most Latin American and Caribbean governments, ending the organizations most contested election since its founding in 1948.
The US initially backed former Salvadoran President Francisco Flores for the OAS post, in what was viewed as a reward for Floress decision to send troops to Iraq. El Salvador is the only Latin American country remaining in the US-led coalition. When Flores failed to gain enough support, the US then backed Mexican foreign minister Luis Ernesto Derbez.
Derbez ultimately withdrew his candidacy after voting in April gave him and Insulza a 17-17 tie. Eighteen votes were needed to win. Insulza won in May, with 31 votes, two abstentions (from Chiles traditional foes Bolivia and Peru) and one blank ballot. The US reluctantly backed Insulza after Derbezs withdrawal.
The election is a setback for US diplomacy, hit hard by the regions push for a homegrown trade bloc to replace the nearly defunct US-led Free Trade Area of the Americas (FTAA), congressional hurdles in Washington and Central America for passage of CAFTA, and the Bush administrations controversial immigration reform proposals. Insulzas election was made more sensitive by the fact that Washington is host to OAS headquarters, and the US provides some 60% of its annual budget.
Insulza, elected for a five-year term, is expected to focus on strengthening democracy and helping find solutions to issues of poverty and insecurity. He will also have to plug the OASs $17 million budget gap.
As a pro-market Socialist, Insulza is likely to work well with the regions admin-istrations, most of which are led currently by leftist and center-left leaders. His relations with Washingtonwhere he will now residemay be a bit icier.

Antonio Guerrero