Venezuela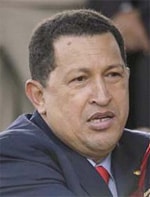 Chvez:Re-election

mandate for

nationalization

Encouraged by a strong mandate in the December presidential elections and a booming oil sector windfall that boosted GDP by 10.3% in 2006, Venezuelas president Hugo Chvez began a new six-year term in January by calling for a greater push toward socialism.
Chvez called for renationalizing the power, water and telecommunications sectors, seizing control of oil operations in the Orinoco region and eliminating central bank autonomy. Venezuelan stocks plummeted immediately after the inauguration, which was followed by a large-scale cabinet reshuffle to promote Chvezs closest allies.
It remains highly uncertain that the Venezuelan government would use its financial resources to compensate investors of nationalized companies at a fair market value, says a report by Fitch. The ratings agency downgraded Electricidad de Caracas, the Caracas utility that Chvez hopes to renationalize, to B+ from BB- with a negative outlook, noting it expects the company to experience increased government intervention, putting it at risk for default.
Other analysts feel the impact of the presidents strategy will not be so damaging. Citigroup issued a note stating that the implications of Chvezs statements for foreign investors would be minimal given that Venezuela remains virtually non-investible.
For Standard & Poors, Venezuelas oil riches are too tempting for foreign players to stay away for long. Private investment will be on hold until the new rules of the game are clear, says S&P; analyst Richard Francis. However, given Venezuelas vast potential, private oil companies will likely begin investing again within the next year-and-a-half.
Francis words may sound good to Chvez, but the analyst also points out that, with the outlook for the all-important energy sector unclear, 2007 will prove decisive for both the state-owned PDVSA oil company and the private sector. If oil prices decline, President Chvez may have to put the brakes on his revolution.


Antonio Guerrero