BRAZIL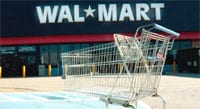 Wal-Mart Stores, the worlds largest retailer, did some shopping in Latin Americas biggest market last month and agreed to pay about $757 million for 140 Brazilian stores. While Wal-Marts purchase from Portugal-based Sonae provided Brazil with no net new foreign investment, it was a major vote of confidence in the countrys future economic growth at a time of political uncertainty in the Latin American region.

Bentonville, Arkansas-based Wal-Mart in March 2004 bought a 118-store supermarket chain, Bompreco, in northeastern Brazil for $300 million from Ahold of the Netherlands. The Sonae purchase will boost Wal-Marts presence in Brazils wealthier southern states. Wal-Mart also recently opened its first supercenter, a combination of discount store and food outlet, in Brasilia, the capital of the nation of 184 million people.
With the Sonae acquisition, Wal-Mart will operate 295 units in 17 of Brazils 26 states. It will remain Brazils third-largest retailer, following Carrefour of France and Companhia Brasileira de Distribuio Po de Acar.
We expect to learn a lot from Sonae that will help us improve further our business in Brazil, says Vicente Trius, president of Wal-Mart Brazil. We are looking forward to getting to know the habits of the local customers and to strengthen relationships with the regional suppliers, he says.

Despite Wal-Marts optimism, however, Sonae said its decision to sell its Brazilian operations was influenced by the difficulty in making big enough profits to offset the high cost of capital in Brazil, which has among the highest interest rates in the world.
Wal-Mart expects more than one-third of its growth to come from overseas expansion in 2006, as comparable sales growth in the US slows. In September 2005 the retailer purchased a one-third interest in Central American Retail Holding, that regions largest retailer.

Gordon Platt