Germany/Global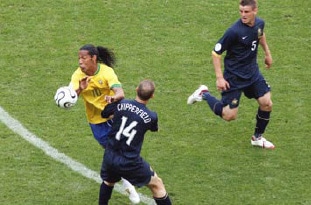 Sales pitch: Companies

are set to benefit

If the number of football fans converging on Germany for the World Cup was not enough hysteria, a future events company predicts that World Cup fever is also likely to take its toll on the financial markets.




The summer season is the time for major sporting fixtures such as the World Cup, Wimbledon and Royal Ascot, and Columba Systems, a provider of future financial market event information, says this summers sports frenzy is set to tangle with a number of important interest rate and economic announcements.

And just as some fans may be crestfallen when their favorite football team is booted unceremoniously out of the Word Cup, when the world of sports and finance collides, Columba says, there are also likely to be some disappointed investors. It points to the example of South Korean electronics giant LG Philips, which recently lost 10% of its value when it announced that sales of its World Cup TV products did not live up to expectations. Investors and fund managers must prepare themselves for a raft of such announcements over the coming weeks as more companies report their World Cup performance, says Columba.
Although first-quarter sales figures were at the lower end of analysts expectations, UK supermarket giant Tesco recently reported that sales had picked up thanks to a last-minute splurge by consumers on food and drink spurred on by the hot weather and World Cup celebrations. In the coming months, the expectation is that other food and drink suppliers are also likely to report positive effects from Word Cup fever on their preliminary financial results. Airlines, too, will be hoping that World Cup-related comings- and-goings significantly boost air traffic figures in the coming months.
Many people have remarked about the number of companies jumping on the World Cup bandwagon, says Dean Ratcliffe, CEO of Columba Systems, but few realize how much is at stake.
Big global events dont just distract staff, he adds. They have a big impact on business success for many companies.


AH