UNITED KINGDOM


It is worth asking whether the statistical fog enveloping the UK economy foreshadows stormy economic weather. Mervyn King, Bank of England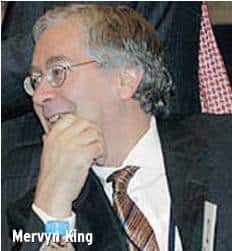 In a 1963 movie, The VIPs, starring Elizabeth Taylor and Richard Burton, an elite group of British citizens with urgent reasons to get out of the country, find themselves stranded at a London airport because of fog.
A similar fate could beset UK monetary policymakers, as they wait for a statistical fog to lift before deciding when to raise interest rates from their current 48-year low of 3.5%.At some point, reducing the present degree of monetary stimulus will be necessary in order to keep inflation on track to meet the target, says Mervyn King, governor of the Bank of England.
Some of the statistical fog hanging over the British economy lifted recently when the Office of National Statistics, the ONS, was forced to revise upward its estimates of economic growth, King told business leaders last month in Leicester, a city in the East Midlands.But October is also a month when fog turns into storms, he warned.So it is worth asking whether the remaining statistical fog enveloping the UK economy foreshadows stormy economic weather ahead.
Meanwhile, ONS director Len Cook was grilled by members of Parliament about a revision in gross domestic product growth for the first half of 2003 from 0.3% to 0.6%. Cook insisted that the big revision was not the result of a mistake. He rejected suggestions that official data had misled the Bank of England when it cut interest rates in July.
King says the statistical fog has made his job more difficult, but that the bank is relying on its reports from its own agents around the country and its other business contacts to learn what is happening on the ground.

Gordon Platt