United States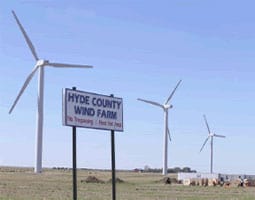 AES, a leading global power company based in Arlington, Virginia, agreed in January to acquire SeaWest Holdings, a privately owned wind-generation operating and development company, for approximately $60 million in cash.
San Diego, California-based SeaWest operates electricity-generating wind farms in California, Wyoming and Oregon and has development sites in 10 states in the western US. The acquisition will make AES one of the leading developers and operators of wind-energy projects in the country.
AES also announced plans to acquire and build SeaWests Buffalo Gap wind-generation project near Abilene, Texas, at an estimated cost of $165 million. Last September, AES made an equity investment in US Wind Force, which has wind-energy projects under way in West Virginia, Maryland and Pennsylvania.
The US is expecting to see more than 2,000 megawatts of wind-generation facilities built this year as the result of new state requirements for power companies to include renewable sources of energy, such as wind, solar, geothermal and biomass, in their portfolios. Some 18 US states have passed, or have pending, legislation on renewable portfolio standards. In addition, Illinois and Minnesota have voluntary standards, while Pennsylvania places obligations on utilities on a case-by-case basis. Marylands legislation, passed last May, requires a certain percentage of retail energy sales to be derived from renewable sources. It also created a fund consisting of compliance fees under the new law to be invested in new renewable energy sources in the state.
Some states allow utilities to meet minimum requirements through a system in which energy producers trade renewable-energy credits, which correspond to a specified amount of energy generated from renewable sources. Nevada uses such a system to promote the development of solar energy. While states have taken the lead in requiring utilities to develop new energy sources, the federal government also encourages electricity production from wind farms with a 1.5-cent per kilowatt-hour tax credit.

Gordon Platt