UNITED STATES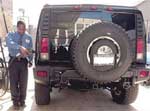 Gas complaint: Exxon Mobil says growing consumption is pumping up its profits.
A long-simmering debate boiled over last month after Exxon Mobil reported the highest earnings ever by an American corporation, topping its own record set the year before. Most Americans were paying substantially more than $3 a gallon for gasoline and worrying about a possible recession when they got the news that the Texas-based oil company earned $40.6 billion in 2007. Chevron, the number-two US oil company, also reported a big rise in earnings.
In Washington, Democratic Sen. Charles Schumer of New York, chairman of the Joint Economic Committee, summed up the widely expressed outrage, saying, "Congratulations to Exxon Mobil and Chevron—for reminding Americans why they cringe every time they pull into a gas station and for reminding Washington why it needs to act swiftly to break our dependence on foreign oil and roll back unnecessary tax incentives for oil companies."
Exxon Mobil points out on its website that Americans are driving more and the US oil industry is adding the equivalent of a large new refinery every year to gasoline production by expanding existing plants. Still, there hasn't been a new refinery built in the United States since 1976. And while high oil prices are also to blame for high gasoline prices, Exxon Mobil increased capital spending last year to $20.9 billion, the bulk of which went for oil and gas exploration.
The company also now has more to worry about than difficult public relations. Exxon Mobil's oil production declined by 6% in the fourth quarter of 2007 after the company pulled out of Venezuela when Hugo Chávez's government took control of exploration projects in the country's Orinoco Belt. Chávez threatened on February 10 to cut off oil sales to the US if Exxon Mobil wins court judgments to seize billions of dollars in Venezuelan assets. The bonds of national oil company Petróleos de Venezuela (PDVSA) fell sharply when Exxon Mobil succeeded two days earlier in getting court orders in the US, United Kingdom, the Netherlands and the Netherlands Antilles freezing more than $12 billion of PDVSA's assets.
Nearly 65% of Venezuela's oil exports go to the US, which is one of the few countries with refineries capable of handling high-sulfur Orinoco crude. If he carries through with his threat to cut off oil exports to the US, Chávez could have a hard time finding new markets for his very sour crude at a time when he needs oil-export revenue to finance his "socialist revolution."