NEWSMAKERS: MONTENEGRO
Montenegro Aims To Be The Next Mediterranean Tiger
By Justin Keay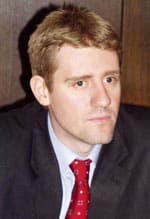 Luksic: Reforms should help attract investors
Most small European countries are still suffering in the wake of the recent downturn, with foreign direct investment (FDI) and trade contracting as investors hold back and most importer nations seek to reduce their deficits. Montenegro, however, seems to be an exception. Pre-downturn, Europe's newest nation—the country declared itself independent of Serbia just four years ago—and one of its smallest, with just 700,000 inhabitants, established a strong reputation as an up-market property and tourism destination. Annual GDP growth averaged 9% as investors poured into such up-scale projects as the refurbishment of Sveti Stefan, an island hotel complex frequented by Hollywood stars in the 1960s, and Porto Montenegro, a huge new marina complex for super-yachts being built at Tivat on the beautiful coastline. Investors are attracted by an open economy, no restrictions on capital, low taxes and Montenegro's unilateral use of the euro as its currency.
Although Montenegro suffered during the recession—2009 GDP contracted 5.3% according to the government, 7% according to the International Monetary Fund—the fiscal deficit was just 4%, and the government is committed to pulling out all the stops to ensure a swift recovery. "We aim to benefit from the global crisis by following every necessary reform," finance minister Igor Luksic told Western investors in London last month, adding that debt levels "are pretty affordable."
Among Montenegro's efforts to ensure the country resumes its former rapid progress is the new Law on Measures to Protect the Banking System, intended to safeguard Montenegro's 12 banks and 30 brokerage houses. IMF support is also available if needed, although Luksic says he is confident about future sovereign bond issues.
Montenegro's highest ambitions are for FDI. Currently it hosts some 5,000 investors from 86 countries, although inflows last year were just $860 million. The Montenegro Investment Promotion Agency (MIPA) hopes to see total FDI reach $14 billion by 2014 and twice that by 2030.
"How do we see the future? Montenegro has the potential to be a Mediterranean tiger, a new Monaco," says MIPA head Petar Ivanovic.