MILESTONES: CANADA
By Erik Heinrich
As Canada heads early this month into its fourth federal election in seven years, policymakers are facing serious questions over the prospects for the country's economy.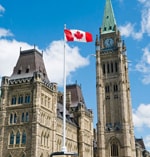 Canada slows spending
The Bank of Canada expects GDP growth to hit 2.9% in 2011 and 2.6% in 2012, slipping to 2.1% in 2013. On the face of it that seems relatively healthy, but the 2011 figure is down from the 3.1% reported in 2010—although it remains one of the highest rates among G7 countries.
Part of the reason for the decline in economic growth over the past year is that stimulus spending is petering out. The strong expansion in 2010 was largely thanks to a massive spending boost: Over the past two years the minority government of prime minister Stephen Harper spent C$46 billion to offset negative impacts of the worst global downturn since the Great Depression of the 1930s. "That spending will end in the second half of this year," says economist Emanuella Enenajor at CIBC World Markets in Toronto.
Weaker economic growth in 2011 is not welcome news, particularly with unemployment stuck at 7.8% and more than 1.4 million Canadians looking for work. However, Enenajor says that, despite the end of the stimulus, "the economy is expected to continue rebounding."
The economic growth rate is not the only concern facing the new government. The Canadian dollar, which has been trading above parity with the greenback for some time, will probably remain above a one-to-one rate for the foreseeable future, supported in part by oil production in northern Alberta. When Canada's dollar was in the same range in 2007, Canadian exporters suffered and many went out of business. Those that remain, including Research In Motion, Magna and Bombardier, have restructured to remain profitable with a high-flying currency, however.
Harper's decision to go ahead with another round of corporate tax cuts in the March budget, despite a huge federal deficit, may have been a mistake in hindsight, not least because it flew in the face of his promise to balance the books by 2015. Whoever forms the next government is not likely to repeat the same mistake, and corporate taxes are almost sure to start rising in Canada after the next election.