France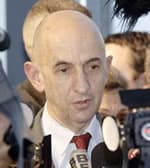 Louis Gallois: Delivering good news
Louis Gallois, president and CEO of Airbus, was all smiles at the Paris Air Show last month. Europe's leading commercial aircraft manufacturer had some good news to announce—deals worth more than $40 billion, including orders for more than 100 of its new wide-body A350 long-haul aircraft. Gallois earlier had forecast at least 200 new orders for the A350 by the end of this year. Qatar Airways' $17 billon order alone includes 80 A350s and three double-decker A380 super-jumbo jets.
Gallois specifically thanked Qatar Airways during the show at the airport in Le Bourget, north of Paris. The five-star airline has been a longstanding Airbus customer. US Airways plans to order 92 Airbus aircraft worth $10 billion, including 22 A350s. The A350 was designed to compete with Boeing's fuel-efficient 787 Dreamliner and is scheduled to enter service in 2013.
Dubai-based Emirates Airline signed for eight additional A380s, bringing to 55 its total order for this 555-seat aircraft, the world's biggest passenger airliner. The deal is worth an estimated $2.6 billion at list prices. The A380 was available for boarding at the Paris show, which attracted about 400,000 visitors in the three days it was open to the public. A second A380 was put through its paces with daily displays of its flying capabilities.
The air show was the biggest ever this year, as a growing global economy has boosted air traffic and spurred orders for new planes. Airbus is far from being in the clear, however, after reporting its first-ever loss last year and embarking on a four-year restructuring that could see the elimination of 10,000 jobs at its plants and suppliers. Most of the problems stem from a two-year delay in producing the A380, due to wiring problems.
The biggest challenge for Gallois, who has ties to the Socialist Party, could be his relationship with Nicolas Sarkozy, France's new Conservative president. Sarkozy is expected to give Gallois enough flexibility to continue cutting costs, but workers at Airbus plants already have staged protest strikes. The French government owns 15% of Airbus parent EADS, and Sarkozy has raised the possibility of a bailout followed by an eventual sale of the government's stake. How he handles the issue could be the first major economic test of his presidency. Will Sarkozy prove to be a free-market reformer, or will he act to save jobs and avoid an early showdown with labor?
Gordon Platt