Germany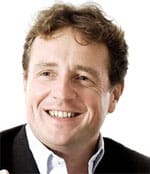 Hunt: Legacy airlines lock in
customers with "bribery"
In a move that is clearly aimed at drumming up corporate business, upstart UK-based business-class-only airline Silverjet has rolled out an innovative loyalty program that takes the benefits out of the hands of individuals and places them firmly back in the hands of their company. Lawrence Hunt, founder of the airline, says he was motivated to create a corporate-friendly loyalty plan by his overwhelming feeling that almost all other airlines' plans are "basically, just bribery." Hunt says: "The legacy airlines want you to spend your company's money with them and in return, they'll give you a back-hander. It works very well for the airlines-it really locks in people-but if I'm the CFO of a company, I have all my employees wanting to fly with their favorite airline, but it does my company absolutely no good at all,- he adds.
Hunt's rewards system is simple: For every 10 round trips purchased on Silverjet, members receive a free round-trip ticket, which they can use at any time without the usual blackout restrictions of many frequent flyer programs. "The key difference with our program is that members are signed up as a company, not as individuals," Hunt says. "Once the collective employees of an organization complete 10 round-trip flights on Silverjet, the company is given a complimentary ticket that can be utilized by any employee."
Hunt sees his program as being based on the same model as the coffee shop loyalty card. "I wanted it to be simple. The idea came from my own experience as a business traveler and dealing with the unnecessary complexities of frequent flier programs. With the ever-increasing amount of points or miles required to receive any sort of benefits, coupled with the growing number of blackout dates and other various restrictions, it baffled me how travelers could receive any actual rewards from these schemes."
So far the response has been enthusiastic. Having launched without much of a fanfare in November 2007, Silverjet's loyalty program already has more than 900 corporate members. With corporations on both sides of the Atlantic looking to wring more value out of their travel budgets, Hunt's maverick scheme could well mark the beginning of a trend".
Dan Keeler