Indonesia
By Thomas Clouse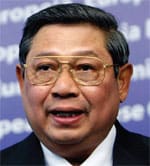 Yudhoyono: Two key aides fall under suspicion
Tens of thousands of protestors took to the streets in cities across Indonesia on December 9 to urge the government to do more to fight corruption. The protests marked International Anti-Corruption Day and followed several months of high-profile political scandals in the country. Indonesia's president Susilo Bambang Yudhoyono, who was reelected last summer on an anti-corruption platform, proclaimed a "jihad" on corruption on December 8, but some of his closest advisers, including his vice president and his finance minister, stand at the center of one of the country's biggest controversies.
In late 2008 the government offered financial assistance to many of its struggling banks. One of them, Century Bank, received significant funds from the government despite its relatively small size. Information later surfaced that some contributors to Yudhoyono's political party had accounts at the bank, leading many to question the rationale for offering assistance as well as the ultimate uses for the bailout funds. Former Indonesian central bank president and current vice president Boediono and finance minister Sri Mulyani are facing increasing scrutiny over their roles in providing the funds to Century. Yudhoyono claims that his political opponents are behind the charges of wrongdoing, but the president's flagging support implies that the public is skeptical.
Further controversy is raging around the arrests of two party officials with the country's anticorruption commission, known as the KPK. Since its founding in 2003, the KPK has pushed aggressively to clamp down on corruption, resulting in the convictions of numerous highranking government officials. The arrests of the two KPK officials have been seen by many as retaliation for the organization's aggressive approach to corruption. The two officials were eventually released, but the controversy surrounding their arrests continues to blight the reputation of Yudhoyono's administration.
Indonesia ranked 111th last year on Transparency International's Corruption Perceptions Index. The European Union ranks corruption as the primary obstacle for European companies looking to invest in Indonesia.