Asia
By Thomas Clouse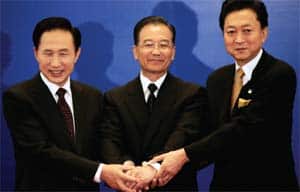 Lee Myung-bak, Wen Jiabao and Yukio Hatoyama in Beijing
China, Japan and South Korea have pledged to work more closely with each other on issues ranging from economic development to environmental protection and nuclear non-proliferation after their heads of state met in Beijing on October 10 for the Second Trilateral Summit. The three leaders' joint statement affirmed their countries' support for "the development of an East Asia community based on the principles of openness, transparency, inclusiveness as a long-term goal, and to regional cooperation." Chinese premier Wen Jiabao chaired the meeting, with South Korean president Lee Myung-bak and newly elected Japanese prime minister Yukio Hatoyama attending.
Their statement offered few specific policy details, however, and did little to address the most significant challenges to economic integration in East Asia.The three countries are at vastly different stages of economic development, and territorial disputes strain relations. Japan continues to push China over concerns on product safety, and Chinese and Koreans remain upset about Japan's perceived reluctance to apologize for wartime atrocities.
Despite the lack of detailed plans, signs of progress are emerging. Hatoyama has repeatedly identified regional relationships as a priority in his administration. Toward that end, he has promised to look more openly at Japan's wartime history. The Japanese leader also told reporters after the summit that he hoped to accelerate progress on a free trade agreement.
The statement produced by the three leaders also reflects increased recognition of the potential for and importance of deeper regional relationships. "Cooperation among China, Japan and the Republic of Korea will embrace an even brighter future," the statement reads, "benefiting not only the three countries but also indeed the world."