WILL KERRY PICK ANOTHER ALAN FOR THE FED-CHIEF POST?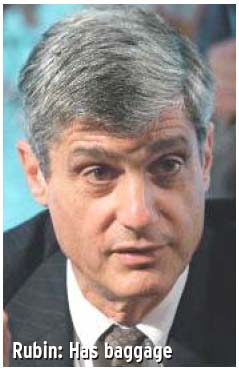 Now that Massachusetts Senator John F. Kerry has all but nailed down the Democratic Party's nomination for president, inquiring minds want to know who he is likely to pick as Federal Reserve chairmanif he wins the election and Alan Greenspan retires.

While most pundits have focused on former Treasury Secretary Robert Rubin as Kerry's likely choice for what many see as the second-most-powerful job in the land, they could be wrong. For one thing, Rubin's strong-dollar mantra doesn't sit well with labor unions and other Democratic Party supporters worried about high unemployment. While dollar policy is up to the Treasury and not the Fed, Rubin carries some other baggage as well.As a Citigroup executive in November 2001, Rubin called a top Treasury official on behalf of Enron. He was seeking help in convincing the rating agencies to delay downgrading Enron, a month before the company filed for bankruptcy. Senate investigators concluded, however, that he did not violate any federal law or regulation. Another potential Fedchief candidate in a Kerry presidency is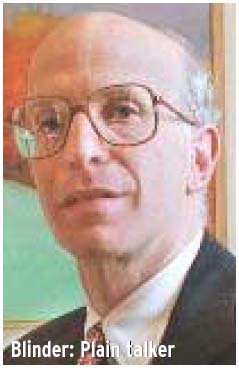 Alan Blinder, the Princeton University professor and former Fed vice chairman, who thinks the central bank's job is to promote growth as much as it is to fight inflation. Blinder also is a proponent of more openness at the Fed, which could make monetary policy work more efficiently, since the market would spend less time trying to guess what the Fed is planning.

At a time when what the Fed says is nearly as important as what it does, it could be useful to have a Fed chairman who actually speaks plain English. One of the things a central bank ought to do to increase its political legitimacy, Blinder says, is for it to be less secretive with the public.
-Gordon Platt

POWELL TAKES THE OUTSOURCING DEBATE OFFSHORE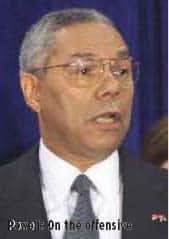 The lively debate over so-called offshoring is throwing up some interesting fodder for the ritual mudslinging match that marks the start of the US presidential election battle. The Democrats have been accusing the Bush administration of complacency over the fact that American jobs have been among the most successful exports from the US recently. In response, President Bush and his team have gone on their own offensive and not only at home.

US Secretary of State Colin Powell was in India recently doing some none-too-gentle arm-twisting. After buttering up his audience by enthusing about the increasingly close relationship between India and America, he hit them with the sucker punch. His comments, once untangled, went something along the lines of let us into your retail markets and well turn down the heat on you for stealing American jobs.

Powells point was that its all about fairness: The US is losing jobs to India so its only fair that Indians buy more American stuff to make up for it. The implication was that if he won a promise from India to open its markets to imports and foreign investment, Powell would be in a much better position to resist the calls of the protectionists back home who want to clamp down on American companies that outsource work to India.

Powells gambit comes on the heels of a free-trade offensive launched by US trade representative Robert Zoellick, who recently said, If countries around the world that are emerging economic powers want to get the benefits of the system, they are going to have to contribute to the system.

Both Bush and his opponents are entering dangerous territory by wading, albeit obliquely, into the debate over outsourcing. It is likely that neither side will emerge unscathed.


Dan Keeler


KANSTEINER SEES OPPORTUNITY IN LAST GREAT EMERGING MARKET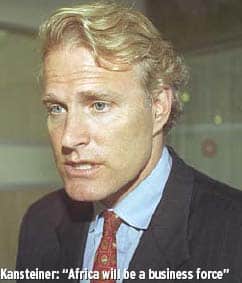 Africa attracts a tiny percentage of the worlds capital flows, and most of the capital that finds its way to the continent resides in South Africa. For wellinformed investors who are tough-minded and patient, however, the rewards from investing in Africa can be substantial, says Walter Kansteiner, principal of the Snowcroft Group and, until late 2003, assistant US secretary for African Affairs.

Africa is the worlds last great emerging market and will be a business force in the future, Kansteiner says. He and other Africa boosters addressed a conference at Citigroup in New York on increasing capital flows to Africa, organized by the Corporate Council on Africa (CCA), an organization of about 200 US companies with investments on the continent.

Capital is smart, said Frank Kennedy, chairman of the CCA financing task force, which includes representatives from financial institutions interested in promoting increased foreign investment in Africa. He cited a list of African oil and gas, pipeline, aluminum smelter and mobile cellular network projects that have succeeded in attracting significant investment.

However, Sika Awoonor, vice president of communications for Atlanta, Georgia-based GoodWorks International, which is developing the Cabinda port project in Angola, had a different point of view. My experience has been that capital is a coward, she said.

Nevertheless, some African companies that find themselves shunned by analysts in developed countries can gain a broader research following by issuing American depositary receipts, bankers say (see ADRs, page 11).

Kansteiner, who advised the buy side on the $1.3 billion partial privatization of Telkom South Africa, says investors need to learn to mitigate risks, and insurance in force from the Overseas Private Investment Corporation is growing rapidly. Meanwhile, he adds, African regulators are aggressively enforcing good corporate governance rules. Theyre on the right path, Kansteiner says.

Gordon Platt


JULIAN DAY TURNS KMART AROUND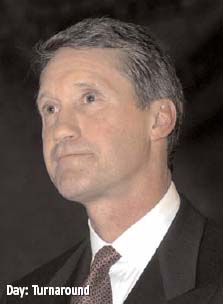 Kmart, the Michiganbased discount retailer known for its big red K, has swung into the black.The company posted its first quarterly profit since it emerged from bankruptcy last May.And what a profit it was:After turning in a loss of $1.1 billion in its fourth quarter last year, it earned an impressive $276 million in its fourth quarter ended January 28 this year.The stunning turnaround was masterminded by Julian Day, the UK-born president and CEO,who worked similar magic as chief financial officer of the Safeway supermarket chain in the 1990s.

Kmarts comeback was all the more impressive, coming less than two weeks after Martha Stewart was convicted of conspiracy, obstruction of justice and lying to the government about her sale of shares in ImClone Systems. Kmart was relying on Martha Stewart Everyday brand housewares to help it get back on its feet. So far, the conviction hasnt hurt sales of these items, Kmart says.

By giving careful thought to the processes of sourcing, logistics, pricing, inventory management and in-store presentation,we have significantly improved the profitability of our market basket,Day says.

With undergraduate and masters degrees from Oxford University and an MBA from the London Business School, Day is a nononsense sort of fellow who realizes that it doesnt make sense to sell more merchandise if you are losing money on each item. For a company that had focused on shifting volume, it was a tough lesson to learn. Kmarts sales plunged 26% from a year earlier, due partly to the closure of hundreds of stores.

Day is pragmatic about the changes hes institutingand their impact on Kmart staff: The men and women of the new Kmart are focused on managing our business to restore profitability. It looks like the former rugby-playerturned- executive knows how to carry the ball.

GP