UNITED KINGDOM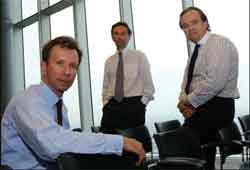 John Studzinski, with Stephen Green (HSBC CEO-designate) and Stuart Gulliver

In a battle between two of the worlds most globe-spanning institutions, its HSBC that has come out on top of the Catholic Church. The bank revealed mid- April that it was hiring John Studzinski, one of Europes top bankers, to co-head its investment banking group. Some observers had thought 47-year old Studzinski was set to become a priest when he left Morgan Stanleys London office after 23 years at the end of March.
HSBCs coup may signal the bank is set to grow its lagging investment bank activities, despite the downturn in activity across the sector. Studzinskiwho will run the group with HSBC veteran Stuart Gulliverplayed a major part in driving Morgan Stanley to the top of the European investment banking pile during the nineties, working closely with the heads of many of the continents toniest companies.
HSBC has always fought shy of the wilder reaches of investment banking thats the major divider between it and closest rival Citicorpand it is unlikely to throw caution to the wind altogether. Instead, expect it to write large the fixed-income driven model successfully followed by London-based Barclays Capital. Barclays remake was itself led by Robert Diamond, a former CSFB banker.
At the end of March, HSBC completed the $13.6 billion purchase of US lender Household Finance, filling a major geographical hole in its global reach.
Studzinski, a US citizen, was made a Knight of the Order of St. Gregory by the Pope in 2001 for work with Londons homeless.

MJ