BELARUS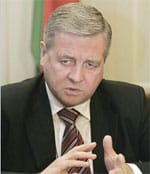 Nanda: Controlling

spread of AIDS makes

good business sense

As relations continue to sour between Belarus and Russia, Belaruss government has revealed that it wants to reduce its economic dependency on its closest neighbor. In a move that analysts billed as the first major announcement regarding privatizations, Belaruss deputy prime minister Vladimir Semashko indicated in early February that the government would make orderly privatizations in the chemical sector and that it was in discussions with private companies regarding the sale of the Motovelo bicycle and motorcycle plant and the Amkodor firm producing vehicles used in the public sector. Details surrounding the privatizations were sketchy, and the government did not disclose when the privatizations were likely to take place.
Gerhard Lechner, RZBs Belarus analyst, welcomed the announcement, saying it marked a reorientation of the governments economic and trade policy away from its traditional heavy emphasis on Russia, which had forced Belarus to accept a significant hike in gas charges in late Decemberfrom $47 to $100 per thousand cubic metersor otherwise face supplies being cut off. In a tit-for-tat move, Belarus responded by slapping a charge of $45 per tonne on Russian oil pumped through its pipelines to European customers.
Belarus needs approximately $1.5 billion to finance the gap [in its current account deficit] that will exist after the gas price hike, observes Lechner. With further hikes in energy prices expected in 2008 and 2010, Lechner says that the gap in Belaruss current account deficit will grow. He welcomed attempts by the government to plug that gap by attracting more capital through foreign direct investment or portfolio inflows. However, he said that the announced privatizations may not be enough.
RZB anticipates that Belaruss current account deficit will increase to 6% this year from 2.5% in 2006, which will put its currency, the Belarusian ruble, under significant depreciation pressure.

Anita Hawser