United states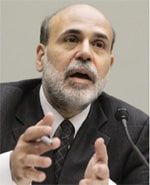 Bernanke: Straightforward presentation

In his first semi-annual testimony before Congress on February 15, the new Federal Reserve chairman, Ben Bernanke, sounded more like a grizzly than the Gentle Ben that some analysts had anticipated. His upbeat assessment of the US economy and hawkish comments on monetary policy kept the dollar from falling on simultaneous news of a sharp decline in foreign demand for US treasury securities. A source of critical financing for the US trade and current-account deficits, foreign buying of US treasury bonds dropped to a six-month low in December of $18.3 billion from a record $54.5 billion a month earlier. The falloff raised worries in the currency markets about a potential reversal of petrodollar flows to the US bond market that could undermine the dollar.
Bernankes hints that additional interest rate increases might be needed to contain inflation were enough to lift the dollar, which has been sensitive to rate differentials between the US and other major economies. The economy now appears to be operating at a relatively high level of resource utilization, the Fed chairman said. The risk exists that, with aggregate demand exhibiting considerable momentum, output could overshoot its sustainable path, leading ultimatelyin the absence of countervailing monetary

policy actionto further upward pressure on inflation, he said.
Bernanke made it clear that monetary policy will depend on a careful analysis of economic data. With the economy appearing to remain strong, economists have begun talking about the possibility that rate increases could continue in the second half of 2006, which would be bullish for the dollar. For his part, the new Fed chairman managed to get through his first Humphrey-Hawkins testimony, as the ritual is known, without making any blunders and, in fact, winning some praise from market participants and analysts for his straightforward presentation.

Gordon Platt