NEWSMAKERS: ITALY
By Gilly Wright
"Italy is dying from austerity alone. Growth policies cannot wait," announced Italy's new premier, Enrico Letta, in his first keynote speech.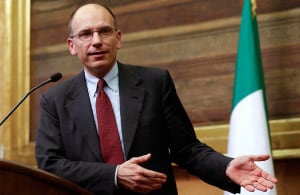 Can Letta pass reforms with weak coalition partners?
Saying that priorities would be the economy, unemployment and electoral reform, Letta also hopes to persuade the European Union to ease up on its punishing austerity agenda, while honoring the 2.9% deficit limit agreed with Brussels for 2013.
However, as Letta is leading a fragile coalition—made up of his own center-left Democrat Party, Silvio Berlusconi's conservative PDL (People of Freedom) party and Civic Choice, the party of former PM Mario Monti—meaningful change may be difficult to achieve. Already, government liquidity is under threat, with the PDL demanding that a housing tax on first residences introduced by Mario Monti to plug a budget shortfall be abolished and monies already paid be refunded.
Fulfilling Berlusconi's campaign pledges on the tax would cost around 12 billion ($15.7 billion), and the Italian media are reporting that new Economy and Finance minister Fabrizio Saccomanni is looking to find 6 billion to reduce property tax rates, rather than scrap them altogether.
Saccomanni also needs to restructure the state budget to fund welfare schemes for laid-off workers, avert a planned hike in VAT and support companies and low-earners, while cutting some unproductive public spending to create resources needed to reduce taxes.
Loredana Federico, an economist with Italy's largest bank, UniCredit, insists the most challenging task for the new government will be the balancing act of restoring public debt sustainability (over the medium-to-long term) and fueling economic growth in the short term. "But, as there is a tendency within the EC [European Community] to loosen the grip of harsh austerity," notes Federico, "we think that it's not a mission impossible for Letta's cabinet. Obviously, we now have to wait and see."