Canada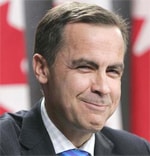 Carney: Taking control at a difficult time.
Mark Carney took the reins as governor of the Bank of Canada from David Dodge on February 1, at a time when the central bank has embarked on a rate-cutting cycle to counter fallout from the US housing sector and the subprime mortgage market.
Carney, 42, is the youngest central bank governor in the Group of Eight industrialized nations, but he is no novice. He was deputy governor of the Bank of Canada until his appointment in 2004 as associate deputy minister of finance, where he oversaw the federal Conservative government's plan to tax income trusts at source. He also served as Canada's finance deputy at the G-8, G-20 and Financial Stability Forum.
Carney, who rejoined the Bank of Canada last November as adviser to Dodge, will need to draw on all of the skills evident in his resume to fulfill his mandate of ensuring low, stable and predictable inflation at a time when rates may need to be cut further to deal with weakness in housing and manufacturing, which is sensitive to US demand (see report, page 30). The hitherto high-flying loonie, as the Canadian dollar is known, took a dive in December after the Bank of Canada surprised the markets by cutting its overnight target interest rate a quarter point to 4.25%. Like any good central banker, Carney will want to establish his anti-inflation credentials, but Canadian manufacturing lost more than 33,000 jobs in December, and unpleasant realities must be faced.
Gordon Platt