United States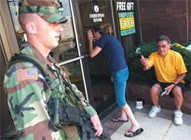 A hurricane-damaged Hibernia Bank

McLean, Virginia-based credit card company Capital One Financial was about to close on its $5.3 billion purchase of Louisianas largest bank, Hibernia, when Hurricane Katrina stormed into the picture, damaging the banks branch network and raising the possibility of big loan losses if Hibernias customers are unable to keep up with their payments.
But rather than walk away from the deal, Capital One renegotiated the terms of the merger and lowered its offering price by 9% to reflect the damage done to the branch network. New Orleans-based Hibernia, with more than half of its 321 branches concentrated in the southern part of Louisiana, sustained considerable damage to at least 21 of those branches.
Richard Fairbank, Capital Ones CEO, says, While no one can predict the impact of Katrina with certainty, I remain convinced of the strategic value of this transaction and believe that Hibernia is well positioned to grow and generate significant shareholder value over time.
Capital One got a vote of confidence when its stock rose more than 1% on September 7, when the renegotiated terms of the proposed deal were announced. Hibernias shareholders will have to vote again on the new terms, which could be renegotiated further if the damage turns out to be worse than expected, pushing the likely closing back toward year-end. Hibernia shareholders approved the initial deal with 94% voting in favor of the merger.
Capital One remains eager to gain access to the deposit base of Hibernia, which has about one-third of its branches in the fast-growing Texas market. It needs these stable, relatively low-cost deposits to support its credit card and automobile lending operations. Meanwhile, billions of dollars of redevelopment aid and insurance proceeds are expected to flow into Louisiana, boosting Hibernias future business prospects.

Gordon Platt