Argentina
By Antonio Guerrero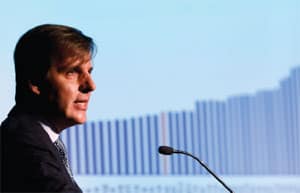 Redrado: Rejected presidential order to resign
Argentina's central bank presidents have long received low grades for their lack of independence. The situation has been exacerbated under Argentine president Cristina Fernández de Kirchner, who has strengthened the government's control over the economy. That is, until central bank president Martin Redrado unleashed a battle between the monetary authority and executive branch that analysts say could finally pave the way for central bank autonomy.
In January Fernández issued a decree forcing Redrado to resign after he refused to hand over $6.6 billion of the country's $48 billion reserves to meet some $13 billion in debt payments falling due this year. The government's plan is to create a debt fund that would help cut borrowing costs for local corporates, save $800 million in interest payments and reduce country risk. Critics, however, contend it would allow the government to continue spending ahead of next year's presidential election.
Redrado refused to step down, and a federal judge ruled Redrado can only be removed by Congress, which the ruling party no longer controls. The case could go to the Supreme Court, as the government also stands firm.
After a $100 billion default in 2001, Argentina remains locked out of international capital markets. Last November the government announced plans for a $20 billion debt swap for holdouts from a 2005 exchange. The administration relies on tax income, domestic borrowing and bond sales to its fellow socialist regime in Venezuela at rates as high as 15%. Bond prices have declined amid the standoff, while Fitch Ratings says the situation could hurt Argentina's credit rating.
For Redrado, the plan is clear. He says he will continue to defend the nation's reserves. Asked his opinion on the showdown, Redrado said simply: "I don't express my opinions; I work. I'm a professional economist." Yet he reminded journalists that the central bank has had 55 presidents in its 75-year history. It may be a while before it gets to number 56.