United States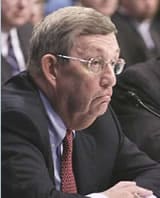 Under fire:Exxons


ex-CEORaymond

Its not only by chance that Americas biggest company is also its most profitable, earning more than $36 billion last year. And with pay for performance all the rage, it shouldnt be shocking that ExxonMobils former chairman and CEO, Lee Raymond, who retired at the end of last year, was given one of the most generous retirement packages in US business. Still, it made for big stories on the nightly TV news last month when ExxonMobil revealed in a regulatory filing that Raymonds retirement package came to nearly $400 million, including pension, stock options, a $1 million consulting deal, personal and home security, country-club fees, a car and driver and access to a corporate jet. That was second only to the $550 million payout in 1997 to Michael Eisner, former CEO of Walt Disney, who exercised stock options at an enormous profit.
ExxonMobil defended its largesse, noting that Raymond spent 43 years at the company, including 12 as chairman, in a very long and distinguished career. With gasoline prices soaring to over $3 a gallon in some parts of the country, however, the disclosure of Raymonds lavish sendoff was a public-relations disaster. Some ExxonMobil shareholders are now trying to pass resolutions at the companys annual meeting in Dallas on May 31 that would clamp down on executive compensation. The company is urging shareholders to vote against these resolutions.
Critics argue that much of Raymonds pay came from windfall profits generated by rising oil prices and not from any entrepreneurial activity. ExxonMobil says his compensation was appropriately positioned relative to CEOs of US-based integrated oil companies and other major US-based corporations, particularly in view of the long-term performance of the company and the substantial experience and expertise that Mr. Raymond has brought to the job.
ExxonMobils total return of 12% on its stock last year was well below the 31% return on the Standard & Poors 500 energy index, which includes 29 companies. Still, the stock is up 500% in the 12 years that Raymond ran the company, which he helped turn into the biggest oil company in the world, motoring it past BP. However, at least a few of ExxonMobils 2.5 million investors believe that too much of the companys profits are going to line the pockets of the occupants of the God pod, as its executive suite in Irving, Texas, is known.

GP