Colombia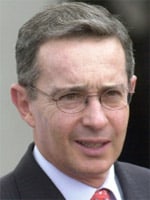 Alvaro Uribe

Colombian president Alvaro Uribe, 53, scored a victory in November when the nations Constitutional Court overturned a 1991 ban on reelection for sitting presidents. The move hands Uribe, whose approval rating hovers near 80%, a virtual guaranteed reelection next May.
The ruling, coupled with a divided opposition and polls that give Uribe an estimated 56% of votes next year, has consolidated his frontrunner spot. Its a big step, Uribe said during an initial ruling in October, in a country that has more urgency than hope.
Much of that urgency revolves around Colombias 40-year struggle against violence from drug cartels, left-wing guerrillas and right-wing paramilitary forces. Since taking office in 2002, Uribe has taken a tough stance on crime, extraditing more than 300 suspected drug traffickers, mainly to the US.
While he has popular support, some are concerned that a second Uribe administration could spark both a heightening of opposition attacks as well as a stepping up of guerrilla violence. Uribe is undaunted and says he needs another four years to get the job done, including solidifying his conservative economic policies, overhauling social security and putting the country back on the radar for foreign investors.
So far, foreign direct investment rose 54% during the first half of 2005, to $2.26 billion, after soaring by 69% last year, to $3.05 billion. Net FDI is expected to top $4 billion for full-year 2005. Much of the FDI flows have gone into the mining, oil and manufacturing sectors.
Public debt, however, stands at more than 50% of GDP, raising concerns over debt sustainability in a country that already lost its investment-grade rating. Expectations are that Uribe will push for greater exports and investment flows while privatizing some of the remaining government-owned utilities and banking assets.
Meanwhile, the president counts the US among his fans. He is one of the US strongest Latin American allies and heads one of the regions few remaining right-wing administrations. So far as the country continues improving as it is, said pollster Jorge Londoo of polling firm Gallup/Invermedia, it will be very difficult to beat Uribe.

Antonio Guerrero