Mexico
By Antonio Guerrero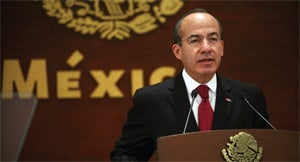 Calderón: Reform agenda is in danger of stalling
Analysts had for months warned of an impending Mexico downgrade. When it finally came, it did so in the form of a one-two punch. In November Fitch cut the country's rating from BBB+ to BBB. In December Standard & Poor's followed suit. The moves mark Mexico's first downgrade since its 1994 peso devaluation.
Rationales for both downgrades pointed to recent tax hikes, which the ratings agencies say are insufficient to ease Mexico's fiscal pressures. While the country's value-added tax was upped by 1 percentage point, lawmakers rejected president Felipe Calderón's bid for a new 2% consumption tax. Also raising concerns is a severe recession, with the economy shrinking some 7% last year, and an ongoing decline in oil output. Oil revenues fund 38% of the national budget.
"Mexico's recent steps to raise non-oil revenues and improve efficiencies in the economy will likely be insufficient to compensate for the weakening of its fiscal profile," says S&P; analyst Lisa Schineller. Net government debt is expected to remain near 34% of GDP through 2011. S&P; says Mexico's rating is still supported by a commitment to macroeconomic stability, conservative financial management, central bank independence and steps to overhaul the federal tax agency.
Calderón's reform agenda faces additional headwinds after the ruling party sustained losses in mid-term elections, although Calderón had pushed through pension and fiscal reforms before the recession forced a shift in priorities.
With uncertainty over the downgrades now in the past and Mexico still in investment-grade territory, analysts expect Mexican corporates to return to international markets. Authorities say the government, however, will raise 75% of this year's $8 billion international financing needs through multilateral lenders. J.P. Morgan predicts the economy will grow by 3% this year, while Barclays Capital says growth will be a more bullish 5%.