Mexico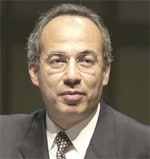 Dark horse:Felipe Caldern

Just a year ago, former Mexico City mayor Andrs Manuel Lpez Obrador of the Jopposition PRD party, and a center-left populist, held a firm lead in Mexicos presidential race. Recent polls, however, show ruling PAN party candidate Felipe Caldern,a business-friendly conservative once considered a dark-horse candidate, has now moved into the frontrunner slot for the July 2 election.
According to a poll in the Reforma daily newspaper, Caldern in late April held a 40% support rating, up from 31% in March. Lpez Obrador,commonly referred to by his initials, AMLO, saw his ratings drop to 33% from 41%.Former Tabasco state governor Roberto Madrazo of the PRI, the party that remained in power for 71 years until now-president Vicente Fox of the PAN won the presidency in 2000, is running a distant third with 23%.
A potential AMLO victory had sparked concerns among the business and investment community-and it seems those concerns have spread. Political observers say his falling star has resulted from Calderns negative ad campaign that likens him to leftist Venezuelan president Hugo Chvez. AMLOs decision not to participate in a presidential debate in April did not help his standing, nor did his disparaging comments about Fox, whose popularity remains high in his final year in office.
Whoever takes the top post will benefit from a strong economy, which will also probably help bring an end to the traditional crisis that has followed nearly all presidential transitions in Mexico.The government predicts a 4% GDP expansion in 2006, from 3% in 2005, while industrial output was up 9.7% year-on-year in March" the fastest such rise in eight years. The central bank cut the overnight interbank rate to 7% in April, for a 20-month low,as inflation remains low.
Caldern, a 43-year-old attorney and economist and a former energy minister under Fox,vows to cut taxes to fuel growth while opening the energy sector to greater private investment. He also promises to maintain close ties with Washington." A good economy rests on two legs" workers and jobs," Caldern said on the campaign trail.

"We have the workers; now lets bring investments and jobs here."

Antonio Guerrero