Honduras
Antonio Guerrero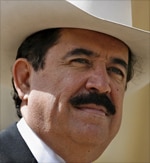 Zelaya: Garnering
interna
tional supprt
After Honduran soldiers stormed leftist president Manuel Zelaya's home in June and he fled into exile, many speculated the Central American nation's economy was poised for growth. After all, Zelaya had aligned himself with Venezuelan president Hugo Chávez, a hard-line socialist, and had attempted to adopt some of his mentor's autocratic policies. But unrest has instead brought the nation's economy to a standstill.
Hondurans were concerned when Zelaya tried to reform the constitution to, like Chávez, abolish term limits to extend his rule. When he refused to submit a 2009 budget to congress, there were rumblings in political and business circles. Local businesses also railed against Zelaya's 60% minimum wage hike. Polls showed Zelaya's popularity rating fell from 57% in January 2007 to just 30% last February.
The United States, European Union and World Bank have suspended aid and financing to Honduras in an attempt to get Zelaya, who was elected in 2005, reinstated. It is estimated that the crisis is costing Honduras $20 million a day in lost revenue, aid and investment.
The economy had already been hit by falling remittances from Hondurans abroad, and tourism receipts and export revenues are now also plummeting. International reserves are dwindling as Hondurans seek dollars. The government cut this year's budget by 8.2% year-on-year, to $5.6 billion. The central bank, which had predicted 3% GDP growth in 2009, now expects a 2% contraction. Moody's warns a downgrade to the country's B2 rating remains possible.
While Zelaya is calling for the US, which accounts for 70% of Honduran exports, to impose trade sanctions, interim president Roberto Micheletti says the country can survive an embargo. Costa Rican president Oscar Arias is trying to mediate a solution in advance of November's presidential election. Under Arias's plan, Zelaya would be reinstated, a unity cabinet formed and elections held earlier. Critics, however, note that if Zelaya returns, he will face a series of charges, ranging from abuse of power to treason.