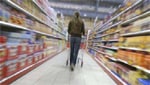 Kicking the habit: Shoppers slash spending.
Will declining gasoline prices encourage American consumers to pile into the family automobile and head out to the mall? Retailers hope so, but signs were not encouraging as the key back-to-school season approached. US retail sales fell for the first time in five months in July, even as the last of the tax-rebate checks were in the mail. With house prices still falling and some banks freezing home-equity lines of credit, consumers could be getting close to being tapped out. If the US consumer were to go on strike, the economic repercussions could be enormous, not only at home but also in major suppliers such as China and Mexico.
To blame for the decline in spending were higher food and energy prices, which had US consumers cutting back sharply on big-ticket items, including automobiles. What little strength there was in July's sales came at gasoline stations, where prices reached an average of more than $4 a gallon.
Short-term consumer debt jumped more than $14 billion in June, excluding loans secured by real estate, according to the latest data available from the Federal Reserve Bank of New York. That was more than twice as much as economists had forecast. As more and more US consumers turned to credit cards to meet their day-to-day needs and wants, economists warned that such borrowing was unsustainable. Cash-strapped consumers may have to cut back on their spending, which accounts for about 70% of the US economy.
New York-based department store Macy's last month reported a decline in second-quarter earnings and said full-year profits would not meet analysts' expectations. July same-store sales for Wal-Mart and Target also disappointed, as the effects of the $168 billion economic stimulus program began to wane.
Gordon Platt