United States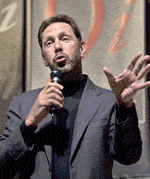 It was an aggressive and tenacious 18-month corporate battle led by a CEO known for his samurai warrior style in taking Oracle from a company with less than a million dollars in sales in 1980 to one of the worlds largest business software players, with more than $10 billion in annual revenue.
But industry observers will be waiting to see whether Lawrence J. Ellisonthe self-made billionaire founder of Oraclecan use these same brash and hard-edged management styles to make the $10.3 billion acquisition of rival business software maker PeopleSoft go smoothly.
Hes a warrior in the technology field and has a very aggressive style. He had the fortitude to see this through and make the deal work, says Mike Dominy, director of enterprise services at the Yankee Group in Boston. He wore down PeopleSoft, but its still a takeover.
So far, aggressiveness has served Ellison well. Raised by his maternal aunt and uncle on the south side of Chicago, the 60-year-old executive dropped out of the University of Illinois and the University of Chicago. But he took the basics of computer programming that he learned in Chicago with him to California. There he and a partner founded Software Development Labs, the predecessor of Oracle, in 1977. They renamed it Oracle in 1980, and the rest has been part of Silicon Valley history. With this latest acquisition, Oracle becomes the second-largest maker of big business software worldwide, behind Germanys SAP
But Ellison may not be able to take the lead if the acquisition is going to work smoothly for customers and managers at the two software makers. Aggressiveness may not be the right tactic, says Charles Di Bona, senior equity analyst at Sanford C. Bernstein in New York City. The culture of Oracle is very dogged and aggressive. PeopleSoft has a softer culture that is less aggressive. Figuring out how to blend the two is going to be a managerial problem, he predicts.

Paula L. Green